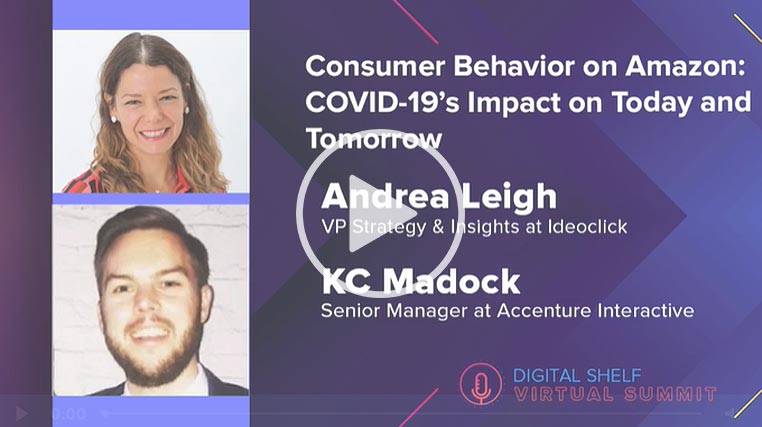 Consumer Behavior on Amazon: COVID-19's Impact on Today and Tomorrow
Presenter: Andrea K. Leigh, VP of Client Services, Ideoclick

In recent months, consumer behavior on Amazon has dramatically shifted due to the outbreak of COVID-19, moving from brick-and-mortar shopping to buying online, click-and-collect purchases, and at-home product delivery. These shifts were predicted to occur at some point in the future, but digital adoption has accelerated — evolving buying behaviors and creating new audiences for brand manufacturers.
For retailers and brand manufacturers, understanding and adapting to Amazon's current market has been vital for meeting surging demands — or mitigating short-term downturn for select categories.
Experts predict that these new buying behaviors will become permanent — and only the brands that plan for this "new normal" will thrive in the future customer landscape.
Watch the latest Digital Shelf Virtual Summit session, featuring Andrea Leigh, VP of strategy and insights at ecommerce optimization platform Ideoclick, and KC Madock, North American digital marketplace management lead at consulting firm Accenture Interactive.
These ecommerce experts will share the most recent insights on changing consumer behaviors on Amazon and will walk you through how to adapt for the future.
What you will learn from this webinar:
The latest consumer and Amazon search trends;
Actionable next steps for Amazon retailers and sellers;
An outline of the challenges and opportunities for brands in "essential" and "non-essential" categories;
Expert predictions for future consumer behavior, defining the "new normal";
Expert predictions for the Amazon and digital commerce landscape
Ventana Research High Performer DAM G2 Crowd High Performer PIM G2 Crowd