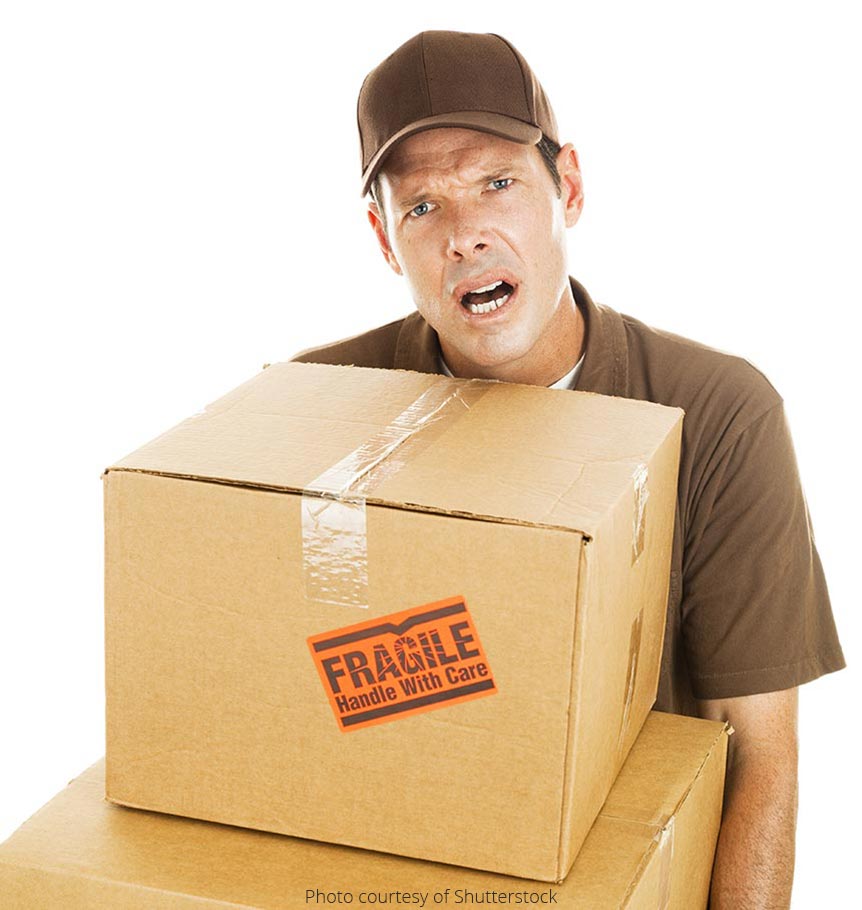 Free shipping isn't free. Someone pays, and it's not who you think.
"There's scarcely tastier bait for American shoppers than free shipping," according to a recent Atlantic article, "and it's been transformed from an occasional incentive into something that closely resembles a consumer requirement."
We expect delivery. We really, really, need delivery. But pay for it? No way.
When is shipping truly free for the customer? When is it not? Why pays, and why? Is this sustainable? Let's find out.
How did we get here?
Back in the olden days, people rode their horse and buggy to the physical stores for all our needs. If the physical store didn't have what we needed, we'd go without (a concept my kids still can't wrap their heads around). The product price was a "box price" which is the price of the item only. Alternatively, you could order from a catalog. For the privilege of ordering a seemingly endless assortment (often from a rotary phone or fax machine), we paid a "landed price", which is a box price plus a shipping fee.
Along came eCommerce. Competing for sales is hard, and the delivery fees for space heaters, diapers, and big screen TVs are expensive. However, shipping costs are a major deterrent to online shopping (still the largest driver of all cart abandonments.) If customers were responsible for the actual, itemized delivery fees, they would feel guilty and lazy for paying to shop in their pajamas. They would go to the store.
Barbara Kahn, Professor of Marketing at Wharton, calls this the "pain tax".
"If the shipping price is incorporated in the price of the good and customers don't have to think about that pain tax, they would definitely prefer it." – Barbara Kahn, Professor of Marketing at Wharton
To get people to shop online, retailers must make shipping free. So, who pays for it?
Does the Customer Pay?
Let's say an item's retail price is $20, and it costs $5 to ship. If the retailer charges $25 and announces, "free shipping", then the customer is paying.
This approach is still common among many third-party sellers on sites like Amazon and eBay. These sites have toggle buttons to help customers filter for items with "free shipping", and you want your products to show up. (On Amazon's web site heatmap, for example, those filters are the hottest places on the page.)
Alternatively, retailers or sellers will charge shipping overtly, in the form of a shipping charge (i.e., Land's End). Order minimums (i.e., Free Super Saver Shipping) are also a way of having the customer share the burden. Larger orders drive incremental revenue and profits for the retailer.
In these cases, the customer pays for the benefit of having products delivered to their homes.
Does the Retailer Pay?
Many eCommerce players got their start this way, matching competitors' in-store, box prices, AND offering free shipping. In this case, the cost of the shipping comes out of the retailer's profit margin. This helps the retailer buy customers, but it is not sustainable as a long-term strategy. If you operate in a margin-rich category, this works. It also works if your shipping costs can be reduced over time by economies of scale. Yet Amazon's retail business is profitable…likely even before advertising (though barely so).
However, cat trees, toilet paper, and Campbell's soup carry high shipping costs. Contrary to popular belief, Amazon and Walmart have moved away from this. While Amazon has economies of scale, it would be difficult for them to ship most of their merchandise profitably – especially with One-Day shipping – without some help.
Doesn't Amazon's Prime Revenue Help?
It helps, but it's likely not enough. It's estimated Amazon spent $5-6B last year on digital content for Amazon Prime, or $40 per Prime customer. That leaves only $79/customer for Amazon's shipping costs. This probably doesn't cover the 24 orders per year that Prime customers place. Of course, the math is more complex, LTV, etc., but you get the picture…
Someone else is subsidizing shipping.
The Manufacturer Pays (ding ding!)
Amazon is in the middle of Annual Vendor Negotiations with vendors. This year's top request by Amazon? To increase funding, especially freight, to help pay for Amazon's launch of One-Day shipping.
Manufacturers heavily subsidize the cost of both the pricing war between Amazon and Walmart AND their free shipping programs.
Manufacturers are also feeling the squeeze of Amazon and Walmart.com to keep on subsidizing.
Years ago, these (1P) manufacturers happily loaded their products onto Amazon with minimal trade funding. Amazon came to represent their primary eCommerce customer and a profitable growth channel.
However, in the past five years, manufacturers have consistently told me that Amazon's gone from their least expensive channel to their most expensive – by a long shot. That's because over time, sites like Amazon have shifted the burden of price matching and shipping costs to the manufacturers.
"Amazon is our highest cost-to-serve retailer." –said by Nearly Every Brand I've Ever Talked To.
Amazon reports vendor profitability numbers back to vendors, often requesting to be compensated when their item-level profits aren't hitting targets. They receive this funding in the form of margin guarantees, freight allowances, accruals, CRaP allowances, straight payments, AVS/SVS programs, and Amazon Advertising. If Amazon can't get subsidies for these products, they're often CRaP. You can't advertise, you fall out of search, and Amazon may stop ordering. Why would Amazon drive sales of unprofitable products?
If you're a typical manufacturer that does more than half of your eCommerce sales on Amazon or Walmart, they yield a tremendous power over your business.
In Amazon and Walmart's defense, I don't think anyone could have predicted how technology would drive such a pricing race to the bottom. Price matching in-store box prices carries a huge burden for an eCommerce retailer, who must ship products. Not being beat on price is an expensive proposition. On the flip side, not being competitive on price is a major trust buster for someone like Amazon or Walmart.
 Please, please have a channel strategy
Manufacturers' channel strategy – or lack thereof – plays an integral role. If you're tied to an old-school promo calendar that gives each retailer their "turn", you'll always be on sale online.
If you think Amazon is your most expensive channel, take a hard look at your promotional strategy.
Also, pay attention to which retailer drives pricing in your category. Consider whether you want everyone to have the same assortment. Best-in-class manufacturers are differentiating. If you give everyone the same thing, expect a race to the bottom and a bunch of emails from eCommerce retailer buyers asking for help with profits.
Is this sustainable? What's going to happen?
No. Why do we rarely see third-party sellers eating the cost of shipping? Because they know that a business built on negative profit margins is generally not a good business (as we've seen with recent IPOs…but I digress).
Major retailers are still competing over eCommerce customers. However, over time, manufacturers are going to run out of money to subsidize retailer profits. When that happens, I believe we'll see eCommerce pricing adjust up to reflect the true cost to serve customers. (Sorry, customers.)
The customer wins
Unless it's clear the customer is paying shipping, someone else is. Therefore, the customer wins. Yay customers!
One thing's for sure – you've got to appreciate Bezos' customer focus. In a recent shareholder letter, he said, "There are two kinds of companies: those that work to try to charge more, and those that work to charge less. We will be the second."